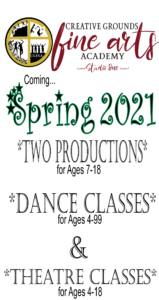 Spring 2021
2021 is going to be GREAT, at least that's our plan! The Spring Season for Creative Grounds is bound to have something for everyone!! From music & movement classes for kids birth through adult with varying developmental needs, to beginner through advance dance classes, to TWO amazing productions; you're sure to find something for your family as part of this Spring's Youth Productions, Dance and Theatre Classes.
Check out the details below and sign up today! Spots are limited for ALL of our activities to provide the safest environment and best learning environment for all.
Drop in dance classes for ADULTS!
---
Special Needs Theatre Classes
Theatre for Littles Ages 4-7
When we participate in Creative Grounds Activities, we know that our kids will grow in both skill and character.
-CGFinearts parent

Katie & Christa
Baby & Me
A Class of Music & Movement for Babies and their caregivers.
Katie & Christa
Toddler & Me
A Class of age appropriate music and movement for toddlers and their caregivers.
Mondays from 5:30-6:30 PM
Katie
Music & Movement
A Class geared for students with moderate to severe Special Abilities.
Mondays from 7:00-8:00 PM
Katie
Theatre for Special needs
A class geared for students with mild to moderate Special Abilities.
Tuesdays starting at 1:00 PM
Katie
Pre-school Music & Drama
A class geared for pre-school students to begin entry level music & drama skills.
Katie
Fairytale Theatre
A class designed for students ages 4-7 interested in being on stage.
Wednesdays from 6:00-6:45 PM
Christa
Littles Dance Class
A great entry level dance class for those 5-9 who love to dance!
Christa
Tap Dance Class
A great tap class for those both interested & experienced ages 10-18.
Wednesdays from 8:15 – 9:15 PM
Christa
Teen Drop in Class
A "no commitment" required class, just show up and learn something new each week beginning January 20th.
Christa
Ballet Dance Class
A great ballet class for those both beginning and advanced, ages 10-18.
Thursdays from 7:15-8:15 PM
Christa
Jazz Dance Class
A great entry and advance level class for jazz dancing, ages 10-18.
Thursdays from 8:30-9:30 PM
Christa
Adult Drop in class
A great "no commitment" dance class for ADULTS looking to come learn something new and have a little workout at the same time!
A simply FANTASTIC production, filled with SO much awesomeness!
Join Les Miserables
Les Miserables will be performed by students ages 12-18 ONLY. This production will be a TON of fun, and we can't wait to see it take flight. Click below for more details and to sign up for an audition slot. only 75 slots will be available.
Jungle Book Kids
Join us for our first ever production featuring our 7-12 year old students! More details and to register click below.