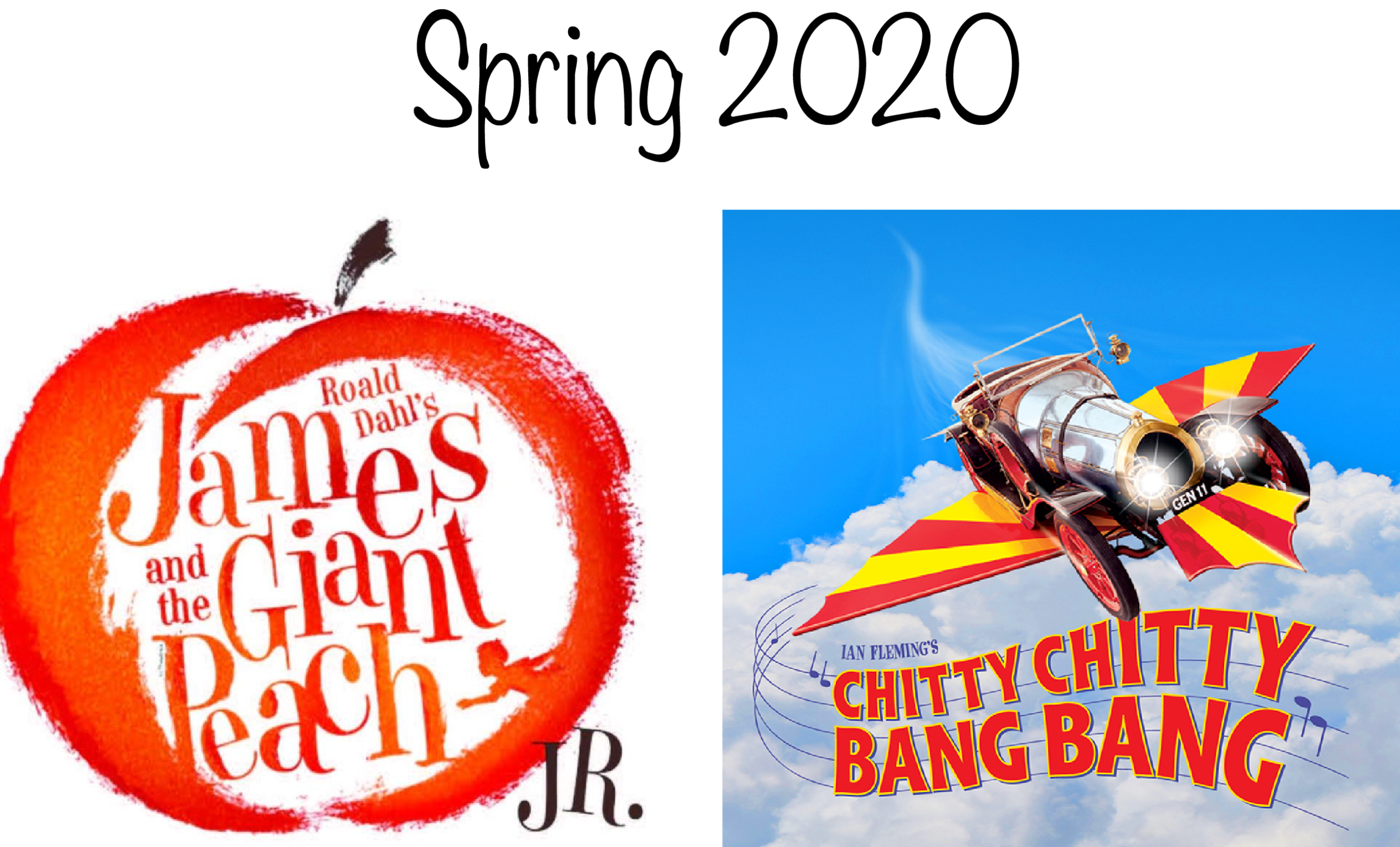 Announcing
Creative Grounds productions of
Roald Dahl's James and the Giant Peach Jr & Ian Fleming's Chitty Chitty Bang Bang
Directors: Abbey Ziemba & Katie Landis
Music Directors: Mark Landis, Kyleigh Hernandez, Tiffany Billingsly & Terion Cooper
Choreographers: Eric Bley
Student Directors: Elianah Atwell & JD Onstott
Show Coordinators: Erin Troxell, Sherri Atwell, Becky Monroe, Shonda Sonnefield
Full cast list of BOTH shows available here.
Rehearsals will be Friday 5-9 and Saturday 10-3. See rehearsal schedule calendar below.
Rehearsals will be held at both Southland Community Church and Rocklane Christian Church. Specific location may change based on availability of spaces.
Performances will be held at TBA
Full Rehearsal Schedules (Advance to January for James -JAGPJ and February for Chitty -CCBB):
Cast Party Date, Time & Locations TBA
Sign up for REMIND messages for Spring 2020 Productions by clicking here. Class code is @cgfaas2020
CGFAA Parent Committee Roles Defined
Casting Information
These productions could be double cast based on talent availability. These productions are open to students ages 8-18.
Production & Audition Fees
Audition Fees are $25 per student. The audition fee is applied to your total Production Fee of $175 which makes the remaining balance $150. Production fees may be paid in payments split over 6 weeks, but must be paid in full before Tech Week begins. Audition fees are non-transferrable and not refundable. Limited number of scholarships are available for each production. Please contact Mark Landis to receive the application for Scholarship.
Students are only called for rehearsal when they are needed and will not be called for the entire rehearsal unless needed. Pizza will be available on Friday evenings for $5 per student.
Saturdays, any student that is called and might need to eat will be encouraged to bring a sack lunch or snack.